Modern performance for the modern homeowner
In the 21st century, your home's thermal performance is an important consideration. As we all strive to find new ways to reduce our carbon footprint and protect the planet, glazing and construction products face increasingly strict energy efficiency regulations. Reducing the amount of heat which escapes from your home is a great way to lower your carbon emissions. By improving the thermal performance of your home, you'll use less energy, helping to do your bit for sustainability and saving you money on reduced heating bills in the process.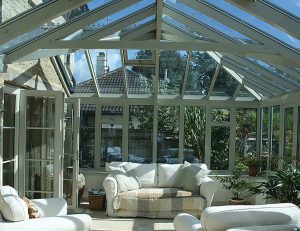 Thermally efficient windows, doors and conservatories
At Chigwell Window Centre, we place great emphasis on providing all our customers with the best products and service possible. When it comes to the thermal performance of our double glazing, it's no different. All our double glazed products are manufactured using high performance multi-chambered frames and energy efficient glazing. They are designed to help your home retain an ambient temperature by limiting heat loss.
From uPVC entrance doors to casement windows and conservatories, all our double glazed products are capable of achieving an 'A' energy efficiency rating. Some of our products can even achieve an 'A+' rating with a requested upgrade. Using thermal inserts, effective weather seals, and uPVC edge banding, with new glazing from Chigwell, you'll soon see a massive difference in your home's performance.
Professional finish with every installation
When you choose Chigwell Window Centre to supply your new double glazing, you're guaranteed quality. They are thermally efficient, secure, and aesthetically attractive, and with a triple glazing upgrade, they can attain U-values as low as 0.8 W/m²K. No matter how well designed your double glazed products, however, if they're not well installed, they won't provide the required performance.
Fortunately, at Chigwell Window Centre, all our installers are fully qualified industry professionals with a wealth of glazing experience and extensive local knowledge. They work quickly and efficiently and always go above and beyond to ensure that every Chigwell customer is a happy one. To further ensure that all our double glazing products are of the same high standard, we manufacture all our products in-house. This allows us to oversee quality at every step of the manufacturing process.